Complete Guide to Search Engine Marketing and Benefits of SEM
Date: January 10, 2020 In: blog By: prakash
Search engine marketing is more commonly known as SEM. It is one of the most cost-effective ways to reach the target audience. SEM is used to describe Google paid search ads. It is also referred to as paid search or pay per click (PPC).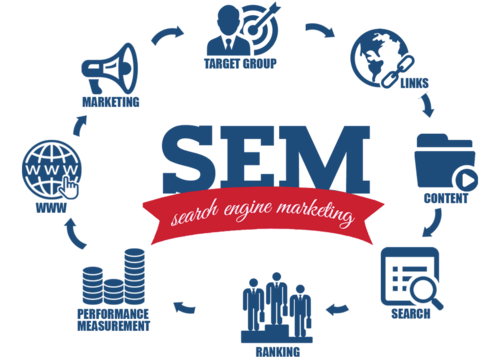 Search engine marketing is an online marketing strategy used to increase the visibility of a website in SERPs(search engine result pages). SEM leverage the power of search engines like Google, Yahoo, and Bing to reach potential customers at the perfect time and place.
With SEM your ads get placed on the sponsored sections of SERPs and will get your ads in front of the target audience with content that is highly relevant to them. SEM can be done quickly and offers many benefits to a business.
How SEM works
To know "How SEM works", some of the most important ones include –
Impressions

Here impressions mean how many times your ad was visible on the screen. 

CPC

CPC stands for cost per click i.e. how much you pay when someone clicks your ad. 

CPM

CPM stands for cost per million impressions. It is another way to pay for search ads. CPM depending on the goals and how the ad tool is set up. 

CTR

CTR stands for click-through rate. The number of clicks you got to your website from the audience that saw the ad. 
Paid search ads are highly relevant to the specific search. Sponsored Ads appear at the top of and side of SERPs to gain more visibility.
The marketer is prompted to the things When setting up a campaign within an SEM network-
Conduct keyword research
Select a set of keywords related to their website
Select a geographical location for ADs to display
Create text-based ads to display in the search results
Bid on the price they are willing to pay for each click on their ad
Benefits of Search Engine Marketing
SEM has become a crucial online marketing strategy for increasing a business reach. In SEM advertisers only pay for impressions. It is a very effective way for small and large businesses to reach new customers, and increase revenues. Here are some benefits of Search engine marketing.
SEM grabs the attention
SEM is used as a short term strategy bringing fast visibility to a product or service. Paid search can give you quick results as they allow you to reach your target audience quickly.
According to research, 90% of people who search online know exactly what they are looking for. You are getting your ads and content in front of the audience that is highly engaged, and actively looking for offers.
SEM is easy and quick
The SEM campaigns are comparatively easy to operate, user-friendly, and quick to set up. The campaign is flexible, configurable and can be set up in a short period of time.
Results are immediate in SEM. It is one of the most effective ways for business growth.
SEM is measurable
You can track your precise success. Paid search allows you to test your ad performance and measure the results for each campaign.
Depending on your campaign goal, you can evaluate your performance and identify what you need to optimize for better performance.
Increase Brand Awareness
SEM not only generate traffic to a website but can also increase brand awareness. Google Ads allow advertisers to expose their brand name in ads heading, description, and display URL or external links.
These paid search ads contribute to increasing brand awareness that often appears on the search results. The higher your products or services ranks in the SERPs, the more likely consumers will visit a website
Geo-targeted search ads
You can target people based on their locations. You can create ads in different languages and can specify the location that could be a specific city, a specific region, or a specific country anywhere in the world.
Target the right audience
SEM provides an effective way for businesses to reach specific audiences based on their search.
You set up an ad by using specific keywords for your products or services. So You can make your ads specifically appears to the customers that are searching for your products by using the specific keywords.
Choosing the right keywords for which your ads are triggered to appear helps you create highly optimize ads.
Increase traffic
Optimized Search Ads can drive traffic to a website. Search ads appear above the organic results at the top of the search results pages.
With the right advertising budget, optimized bidding, and appealing ad message, you can increase the quality of your ads and can ensure high ad visibility. By using the specific keywords in campaigns, you can make sure that your ads reach the right audience at the right time.
Pay per action only
Once your paid search ads are created, your ads will appear for free and you will be paid only when someone clicks on your ads. So you get free exposure and brand awareness on search engines.
People just want an answer to their query as fast as they can get it, so the search ads get clicked. Competitive analysis tools can help you track keywords and analyze other valuable insights that will improve marketing campaigns and help drive more traffic to a website.
Wrapping up
These benefits should convince any client to at least give paid search advertising a try. SEM has the potential to offer instant results, conversions, and more money,  so the clients shouldn't need to wait long for results. Adword India is the best PPC marketing agency, you can visit the website for further more information. It is important for a brand to focus on the SEM so that they can get immediate and long term results.
Tags: facebook ads service, Google Adwords Service, ppc marketing, ppc marketing agency, ppc marketing service